Guided relaxation/meditation every Sunday: From March 2020
A 20 minute relaxation or meditation: invitation via zoom
Time 20.30-20.50
Aimed to help you to unwind, destress and re balance the body during this time of crisis.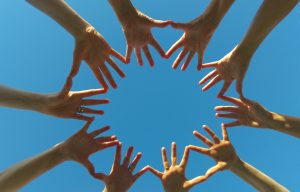 25th January 2020: Pop up Yoga with Louise
Venue: Bampton Village Hall, Market Square, Bampton
Time: 10.00-11.00
A mixed ability class  suitable for beginners which will leave you feeling both energised and relaxed!
To book a mat or for further information contact: louise@louisedennisyoga.co.uk
£8.00 in advance or £10.00 on the day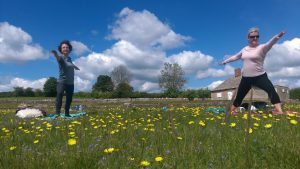 21st September 2019: Pop up Yoga with Louise: 4
An amazing Autumn treat with the most wonderful sunshine, blue sky and bird song. A return to the Roman Villa once again proved a very special place to practice yoga and connect to the elements. The theme was 'Letting go of old habits, unwanted emotions and creating space within the body and mind'. We practiced EBR5, Fearless Flight, 4 Directions sequence, mudra's and the Earth Meditation, releasing any stress, tensions, worries into the Earth and drawing in strength, stability, support and nurture. Magical!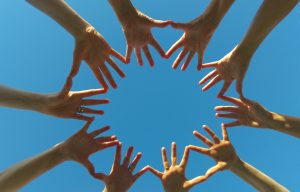 Akasha Mudra: Creating space within the body
13th July 2019: Pop up Yoga with Louise: 3
Another lovely summers day, sun, cloud, wind…..all added to the atmosphere of practising yoga in a stone circle.  The walk to the circle was a joy! Water lapping lake side, swans and the electric blue of damselflies, buddleia and hollyhocks lined the path. We felt truly joyful before even arriving at the stones, the Devil's Quoits! Wild flowers truly made it remarkable, the peace and the dramatic stones! We practiced sequences connected to four elements: earth, air, water and fire! It seemed appropriate to finish with a lovey earth meditation drawing on 'strength, stability, security and nurture'.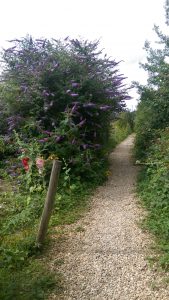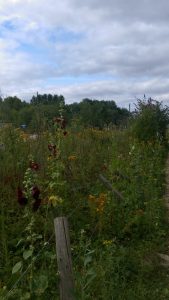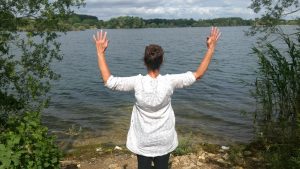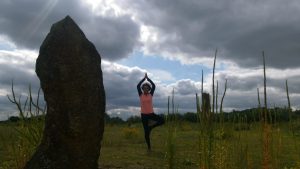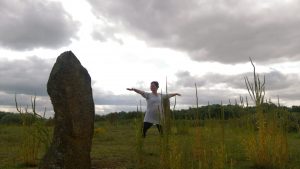 29th June 2019: Pop up Yoga with Louise:2
We took full advantage of the wonderful weather and practised yoga next to the river, even at 9.30 am it was hot! The theme was 'To create strength and energy'. We practised Salutation to the Earth, The Dru Power Sequence and the Bow. This was followed by a lovey river meditation to let go of anxieties and worries. With the bubbling water we did not need to imagine we were next to a stream surrounded by trees and a chorus of bird song!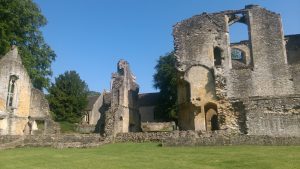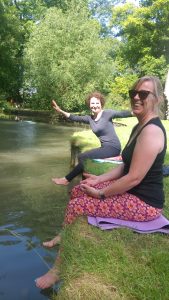 25th May 2019: Pop up Yoga with Louise:1
Practising yoga outside in nature is a wonderful experience, this morning was no different! The theme was 'To create a sense of freedom and build on inner strength'. With the sun and a gentle breeze, surrounded by buttercups and bird song how could you not feel free! We practiced EBR4, Salutation to the Earth followed by the new Eagle and the Tree sequence.  We truly became weekend warriors, drawing up strength from the earth, rising up and transforming into trees before we became eagles and took flight! A beautiful meditation in the most tranquil of settings! Being my mother daughter I can't resist the urge to offer food! We shared  lovely sweet potato brownies (Deliciously Ella) baked with love!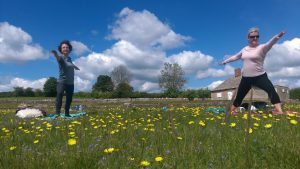 * 'Pop up yoga with Louise' is for my yoga class students and by invitation only.
Yoga by the Sea: May 2019.
Join Matthew and Pauline for a lovely week of yoga in Kefalonia, Greece. This is a lovely holiday combining yoga, meditation, beautiful walks, swimming and delicious food.  I have been three times and always come back re-energised and relaxed. For more information or to book: http://yogabythesea.wix.com/matasana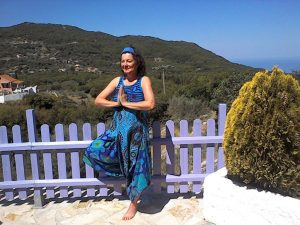 20th August 2018  Yoga Summer School, Main Hall, Woodgreen School, Witney.
Louise has been invited to teach a Dru Yoga Class as part of the Yoga Summer School, Woodgreen School, Witney.
For more information or to book a mat:  Yoga Summer School, Witney
Previous events:
13.00-15.00 The Yoga Room, Witney.
A gentle class of seated yoga, breathing exercises, restorative postures and deep relaxation. Run by Louise and experienced Dru Yoga teacher, Sue Baldwin. A gentle class  to help with the development of a yoga research programme for CFS/ME.